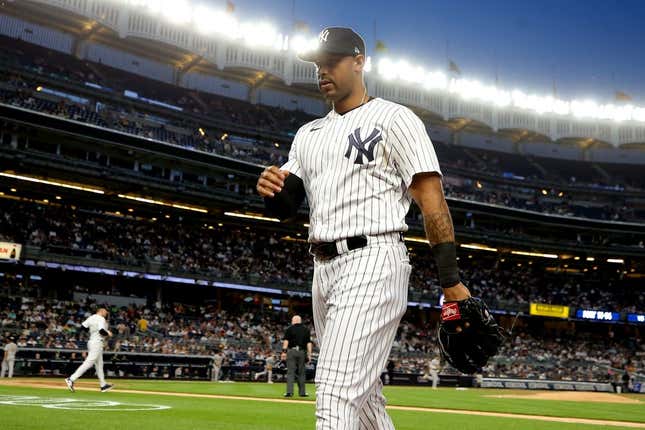 The New York Yankees officially released outfielder Aaron Hicks on Friday, nearly a week after he was designated for assignment
Honor the real Pat Tillman this Memorial Day
The Yankees also recalled right-hander Randy Vazquez from Triple-A Scranton/Wilkes-Barre, while left-hander Nick Ramirez was optioned to Triple-A
Hicks departs more than two years left on a seven-year, $70 million contract signed in 2019. He was batting .188 with one home run and five RBIs in 28 games this season.
New York will owe the 33-year-old $10.5 million for the remainder of this season and a combined $19 million over the next two seasons.
Hicks is a career .230 hitter with 101 homers and 356 RBIs in 898 career games with the Minnesota Twins and Yankees
"It is what it is," Hicks said, per the New York Post, after he was designated for assignment. "It's part of the business side of it. Just got to move on to the next chapter. … This is a very good baseball team. It kind of seemed like it wasn't working out for me."
Vazquez, 24, is poised to make his major league debut. He is 1-5 with a 4.85 ERA in nine starts at Triple-A this season.
Ramirez, 33, had a 2.00 ERA in six relief appearances for the Yankees this season. He is 6-5 with a 4.36 ERA in 70 career relief appearances for the Detroit Tigers (2019-20), San Diego Padres (2021) and Yankees
–Field Level Media