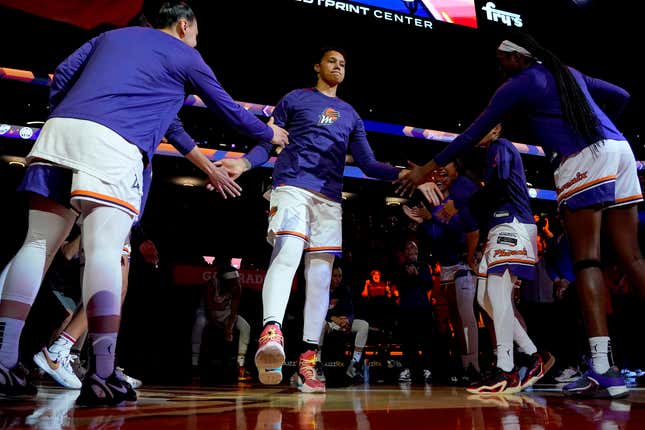 Skylar Diggins-Smith, Shey Peddy, Sophie Cunningham, and Brianna Turner kept the Mercury's emotional 2022 season alive, battling on the hardwood while campaigning for the freedom of the team's biggest star, Griner, who spent most of the season wrongfully detained in Russian prisons. On the sidelines, there was public discord between Diggins-Smith and Diana Taurasi, who also took issue with head coach Vanessa Nygaard's reaction to her All-Star nod in a year when Taurasi was not honored. In February, the franchise re-signed Taurasi to a multiyear deal and declared her "the face of the franchise." 
Diggins-Smith, currently on maternity leave, is the face of Puma's "Desert Sky" campaign. Her status with the team, however, is unclear. What is certain, though, is that Taurasi turns 41 in June and should not be promoted as the face of the franchise. She missed significant playing time in recent years because of various injuries. In 2022, her defensive effort at times amounted to throwing her arms in the air rather than running back to help her team. She even gave Sylvia Fowles the retirement gift of a low blow.
Peddy, who sustained a ruptured Achilles in the 2022 playoffs, helped power the Mercury to the final playoff spot (a date for her return in 2023 has not yet been set); she was in cahoots with the ultra-competitive Cunningham, who battled an elbow injury for much of the season, and Diggins-Smith, who grounded the Mercury in hoops IQ and experience. These are the players, plus Turner and Griner, if she wants to be one of them, who should be promoted as the team's stars, for the sake of cementing the franchise's future. Griner can do a lot for the Mercury, but only the Phoenix front office can stitch together its many frayed parts and snip away the threads which are no longer useful.
Phoenix played its home opener against the Chicago Sky. Griner scored 27 points, grabbed 10 boards, and added four blocks.