Press Play is a recurring column that looks at (and listens to) the songs that have shaped the life and work of beloved musical artists.
---
For nine weeks in 2012, Carly Rae Jepsen's inescapable "Call Me Maybe" sat atop the Billboard Hot 100 chart. Since that epic run, Jepsen has gone on a winding sonic journey, racking up a cult following and a somewhat inexplicable amount of indie cred, while simultaneously inspiring a seemingly endless stream of joyful memes with her hard-to-pin-down pop interpretation of everything from Laurel Canyon folk to disco.
Her career trajectory has been the subject of countless think pieces, senior theses, and at least one 150-page "living document" manifesto. She is, undoubtedly, the underdog queen of unrequited love. Few have captured the painfully relatable awkwardness of shooting your shot, and missing, quite so eloquently or earwormy. But instead of wallowing in despair, her songs float a few inches above the feeling storm, teasing out threads of meaning, clarity, humility, and humor.
More From ELLE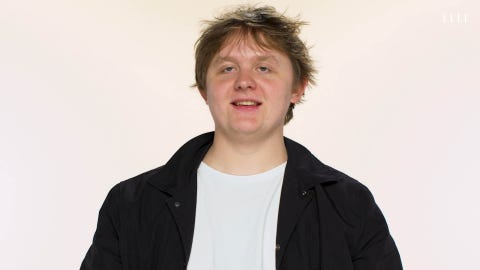 Jepsen's fifth studio album, The Loneliest Time, further demonstrates her range. In a Zoom call earlier this month, she recalled the weight of expectation she felt between the breakout success of "Call Me Maybe" and the release of her critically acclaimed followup album Emotion. "I remember having a conversation with Tavish [Crowe], my guitarist," she says. "We were walking around New York City, and I was feeling the pressure of having all this attention. But he was like, 'I know what a writer you are—and now you finally have a stage and access to all these people. What if, instead of pressure, you look at this like an opportunity to show all the other sides of what you can do?' I was really excited about switching my thinking in that way."
Written, at least in part, during a particularly isolating, grief-stricken period of the pandemic, The Loneliest Time is perhaps Jepsen's most personal recording to date. "Some of the songs have to do with the loss of my grandmother," she says. "Others are more about the excitement of doing something terrifying, like running over to your ex's in the night to rekindle a thing—that fantasy of being like, 'Were we wrong? Should we give it another go?'"
This content is imported from youTube. You may be able to find the same content in another format, or you may be able to find more information, at their web site.
"When I was writing," she continues, "the thought in the back of my head was like, 'OK, these songs are for me, but I need to do them for cathartic reasons, and it feels really safe to write with this guy from London who I've never met over Zoom.' I could get into some of my family issues or whatever I wanted because no one will ever hear it!"
"Go Find Yourself or Whatever" was one of those "experimental, journal-entry tracks," she says. After working on it for a while, she asked her team if they wanted to hear "something kind of crazy." The reaction to a song that was "not what I thought anyone wanted or expected from me" she says, was surprising. "It really connected. And that excited me a lot, but it scared me, too, because I was like, 'Oh my gosh—this feels so real.' But if it's connecting, that's the whole point. So I was like, 'Yeah, let's go there.'"
This content is imported from youTube. You may be able to find the same content in another format, or you may be able to find more information, at their web site.
The root of this desire for connection stems from Jepsen's Vancouver childhood, spent listening to mixtapes with her brother and sister on family camping trips. "I would have full stories playing in my head," she says. "And this was before I had experienced love or heartbreak or anything, but I could put myself in the story, and it was almost like being scorned in love seemed romantic. Now, when I'm creating any kind of intense emotion in a song, whether it's longing or jealousy or new love and the thrill of that, there's always the hope that it gets transferred to the listener and becomes theirs to imagine their own scenarios. I'm always looking for that connection."
Here, Jepsen walks us through the soundtrack of her life, so far.
YOUR FIRST CONCERT
"My parents are divorced, but there was this common theme of them both really loving James Taylor. So my dad took me when I was little, and my mom took me as well. I saw him live recently, and I think I cried the whole time. I really love the live album where he does the cover of 'Up on the Roof.' I also remember seeing Melissa Etheridge when I was young, like seven to nine years old. She wore a leather jacket and just ripped from one side of the stage to the other. I remember being so angry that the crowd was singing so loudly that I couldn't hear her sing. I wanted everyone to quiet down. But I also just remember thinking, Wow, what must that feel like, with everyone singing all the words to your song so loudly you can't hear yourself anymore? I was just thrilled by the whole thing."
FIRST ALBUM YOU BOUGHT WITH YOUR OWN MONEY
"In elementary school, I went to A&B Sound in Vancouver with my allowance or Christmas money or whatever and walked up to the guy and was like, 'What's this band? The song goes, "Tell me what you want, what you really, really want."' And he was like, [exasperated voice] 'All right, come here,' and handed me Spice by The Spice Girls. I thought I had found a new sound. I didn't know it was everywhere."
SONG THAT DEFINES YOUR YOUTH
"I completely got obsessed with Evita, the Madonna soundtrack. When she sings 'Don't cry for me, Argentina…' There's just something about the whole thing that I love."
This content is imported from youTube. You may be able to find the same content in another format, or you may be able to find more information, at their web site.
SONG THAT ILLUMINATES YOUR TEEN YEARS
"It's really rainy in Vancouver, especially in the fall and winter, and I would go on these long runs in the rain, listening to Tom Waits singing 'Lay down on the green grass / Remember when you loved me' in his smoky, whiskey-soaked, almost too many cigarettes voice. I've actually been on a rekindled Tom Waits kick since I realized that he and Ricki Lee Jones were a couple once. I'm just picturing them being the coolest couple of all times."
SONG THAT MAKES YOU THINK OF YOUR FIRST LOVE
"I don't know how I feel about saying it right now with everything going on, but it was 'She Will Be Loved' by Maroon Five. Let's move on!" [laughs]
SONG FROM YOUR MOST MEMORABLE MAKEOUT SESSION
"I was at a jazz camp that I got a scholarship for three years in a row. I think I was 17. I had my first kiss around that time—I was a late bloomer in everything. His name was Brennan. He was a jazz singer, and he sang a song called 'A Kiss to Build a Dream On' on the final night. That's the song I correlate with my first kiss. It just takes me back to Sacramento Jazz camp. Molly Ringwald's dad played jazz piano there."
SONG THAT GETS YOU THROUGH A BREAKUP
"My mom played Damien Rice's 'The Blower's Daughter' for me after my first big breakup, and I was like, 'Are you trying to kill me? This is the saddest song ever!'"
This content is imported from youTube. You may be able to find the same content in another format, or you may be able to find more information, at their web site.
SONG THAT ALWAYS MAKES YOU CRY
"I never really thought 'Somewhere Over the Rainbow' was about death, but my grandmother, as her last wish, asked me to sing it for her. I couldn't get through it without crying. And now every time I hear it I just start crying my eyes out."
SONG THAT MAKES YOU FEEL INVINCIBLE
"I recently had a love affair with that song 'I Am Woman, Hear Me Roar.' I saw the documentary [I Am Woman: The Helen Reddy Story and the Song that Inspired a Revolution], and I think to write a self-motivating song like that one day would be really cool, like, 'Get up, let's do the thing!' That's on my list of songs to look at in the future for sure."
SONG THAT MAKES YOU THINK OF YOUR CURRENT LOVE
"Billie Holiday's version of 'You Go To My Head.'"
FAVORITE SONG YOU WROTE
"I have a soft space in my heart for 'Run Away With Me.' Everything about the making of it was really joyful. I was in Sweden with really good friends. Everything was new and exciting. I really felt that desire to escape with the one that I loved. And the one I loved at the time was also coincidentally there as my videographer. He was filming us as we traveled. So when the label was like, 'We need a video for "Run Away With Me,"' we were like, 'We have it!' We had just made it, the two of us, as young lovers. And he is still one of my dear friends in life. Everything around it is really quite special."
This content is imported from youTube. You may be able to find the same content in another format, or you may be able to find more information, at their web site.
YOUR MOST MISUNDERSTOOD SONG
"I, myself, have so many questions about decisions I've made in the past. Like, I would like to go back and ask what I was thinking with a song like 'Heart Is a Muscle.' I have some deep questions about that one. But at the same time, it's like, it was time in my life. I know what I was trying to say. I think I was trying to say, 'I am woman. Hear me roar.'" [laughs]
SONG YOU WISH YOU WROTE
"There are so many songs I wish I wrote. 'Nothing Compares 2 U,' but also pretty much every Prince song ever written. I love the Sinead O'Connor version. And some songs from my teen years, like "The Boy Is Mine"—I love that duet. It's almost a little Broadway-esque, if you really think about it."
ESTABLISHED MUSICIAN YOU MOST ADMIRE
"I'm really impressed by Cindy Lauper, and the trajectory of her career, and just who she is. I've gotten to meet with her in a few different places, from Osaka to New York to L.A., and every time I see her in any sort of setting, I'm just really astounded by how well she knows herself, and how much space she has to be present with other people. There are a lot of women in the pop world, historically, who don't necessarily know how to, like, land well, if you know what I mean. It feels more like a crash and burn, and I understand why. As far as careers go, it's a really hard one to get to the other side of, or to feel like you get to keep building in an exciting way. I think Tina Turner did a really incredible job of that. Or Robin—she's closer to my age, but I just really admire everything about the trajectory of her career, too."
NEW ARTIST YOU HAVE YOUR EYE ON
"I'm a huge Phoebe Bridgers fan. She's not new, but I'm just excited to see what happens next with her because it just feels like growth in all directions, and she doesn't seem too affected by the fame. Tegan and Sarah have a new album I'm really excited about. Oh! And Lewis OfMan! He's opening for our tour, and he's got the sweetest, cutest, coolest, just like swaggiest little voice I've ever heard. He's this sweet Parisian who's in his twenties now, but I think he was 19 when I met him, and he's just such a magnetic character."
Melissa Giannini is the features director of ELLE.