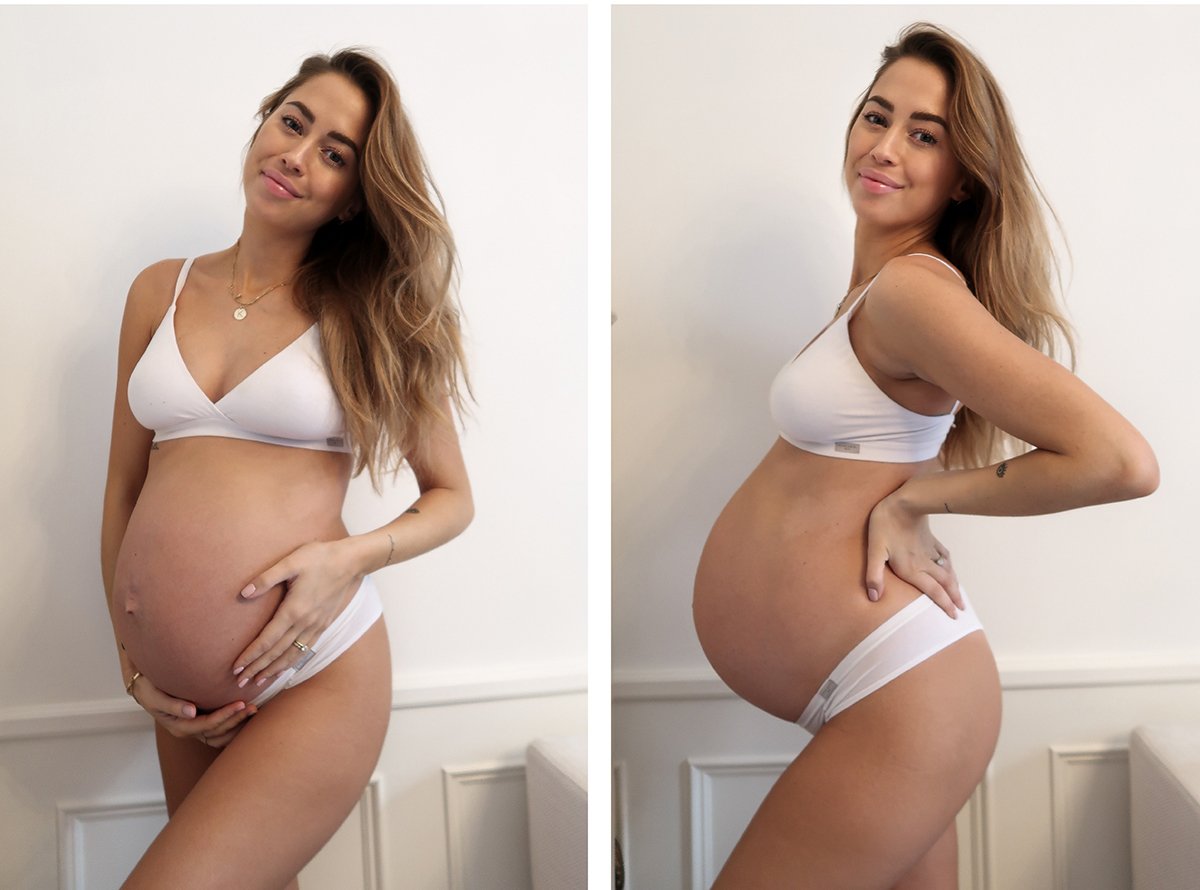 94.6% avklarat – 15 dagar kvar till BF! (vilket är 1a mars)
VECKA 20 HÄR – VECKA 29 HÄR – VECKA 33 HÄR
Dags för nästsista uppdateringen! Tänkte göra en till i vecka 40/41. Räknar ändå med att ta mig förbi BF denna gång också eftersom att jag blev igångsatt 11 dagar över tiden med Nikola. Eller försöker ställa in mig på det iallafall, så att det inte blir lika tufft denna gång som sist haha.
Bebisen: Vi är i slutet av vecka 38 och imorgon är det prick 2 veckor kvar till due date!! Enligt apparna är bebisen runt 49 cm lång och väger runt 3kg. En färdigbakad bebis som nu bara ska ligga och götta sig och lägga på sig tills han (eller vi, kanske behöver bli igångsatt igen ju!) bestämmer sig för att kika ut. Han har legat väldigt långt ner ett bra tag nu och på kontrollen i vecka 36 kunde min barnmorska känna att huvudet var fixerat. Imorse gick även slemproppen (eller en del av den?!) men vet att det inte behöver betyda något! Fruktjämförelsen är nu en PUMPA.
Kenza: Jag har mått prima fram till typ….två dagar sedan. Nu har jag svårt att andas, svårt att gå (ilar mellan benen som in i…) och svårt att sova. Just nu känner jag att jag inte vet hur jag ska kunna gå eventuellt 3 hela veckor till (räknar med att bli igångsatt senast 1 vecka över). Bilderna ovan tog jag i början av veckan men senaste dagarna känns det som att magen dessutom dubblat i storlek så jag är lite orolig över hur jag ska orka.
Jag är iallafall så himla glad över att allt går toppen för Nikola på förskolan (det var lite strul med mat och vilostund i början men nu både äter och sover han där utan problem) och han har dessutom börjat sova så mycket bättre på natten!! SÅN LÄTTNAD. Flera gånger i veckan sover han till och med hela natten i sin säng utan ett enda uppvak. Är 1.5 år av natt-terror över? Vågar knappt tro det själv. Kommer få sota för att jag ens skrivit detta haha (plus snart börjar ju det om igen, men lillebror kanske faktiskt gillar att sova! who knows!) Hans supermammiga period är dessutom över för denna gång och nu låter han Aleks natta och trösta igen vilket känns skönt så att vi kan turas om när bebisen är här också. Här hemma är även allt förberett för bebisens ankomst! Okej, nästan. Jag har faktiskt fortfarande inte packat BB-väskan haha. MEN det står på min to-do list för imorgon och sen är vi redo!! 🙂
När tror NI att han kommer? Före BF? Efter BF? Jag tror några dagar efter!
// Time for the second last update! I'm gonna do another one in week 40/41. I'm counting on passing due date this time too, since I got induced 11 days passed due date with Nikola. I'm counting on that, so it doesn't get as tough to overdue like last time haha. 
The baby: We're at the end of week 38 and tomorrow, it's exactly 2 weeks left until due date!! According to the apps, the baby is around 49 cm tall and weighs about 3kg. The pregnancy is complete and from now on the baby's just going to lie there and chill/gain some more weight until he (or we, maybe i'll be induced!) decides to come out. He has been positioned very low for a while now and at the check up in week 36, my midwife could feel that his head was engaged. This morning, the mucus plug broke (or parts of it?!) but I know that it doesn't have to mean anything. The fruit comparison is a PUMPKIN.
Kenza: I've been feeling great until… two days ago. Now it's getting harder to breathe, I have trouble walking (hurts as f*** between my legs) and it's hard to sleep. Right now, I don't know how the hell i'm gonna manage 3 more weeks of this (I'm counting on being induced 1 week pass due date as the latest). I took these pics in the beginning of this week, but the last couple of days I feel like the bump has doubled in size, so I'm a little bit worried about how I'm gonna manage.
I'm so happy that everything works out for Nikola at preschool (he struggled a bit with eating and resting in the beginning but now both work out totally fine) and he has started sleeping better during the nights as well!! SUCH A RELIEF. Multiple times a week, he even sleeps all night in his bed without a single awakening. Is a 1,5 year of night terror over? It feels too good to be true. I'll probably regret writing this haha (plus soon it's all starting over again with little brother, but maybe he likes sleeping! who knows!). Nikola's mommy-period is over for this time, and he lets Aleks put him to sleep and console him, which feels great. So we can help each other out when the baby gets here. At home we have everything prepared for the baby's arrival! Okay almost, I still haven't packed the hospital bag haha. BUT it's on my to-do list for tomorrow, and then we're ready!! 🙂