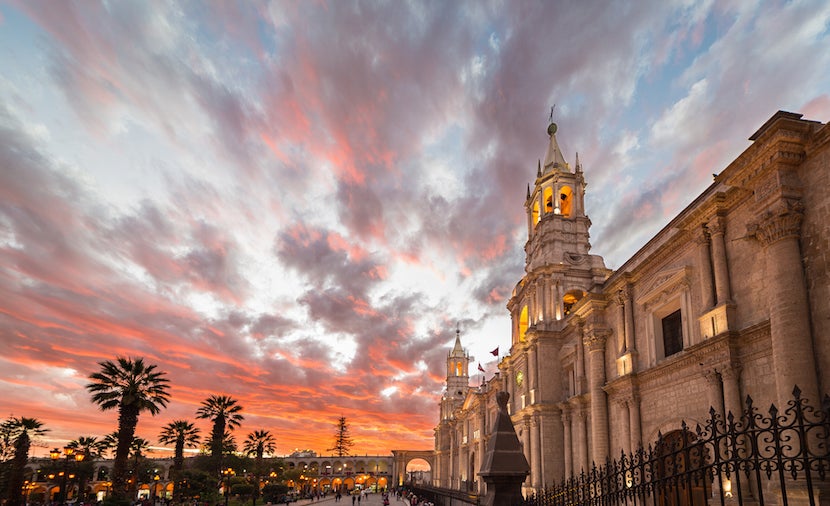 When we're looking for travel inspiration and advice, we often turn to social media to get our fix. But the fact is, diversity has often been lacking among some of the more notable travel bloggers and influencers.
Fortunately, there are many travelers out there who have begun to share their adventures and expertise with a broader audience. To celebrate National Hispanic Heritage Month, TPG invites you to follow the work of these notable Hispanic and Latinx bloggers and influencers in the travel space. Some will no doubt show you gorgeous destinations and travel hacks to streamline your next getaway. Others will challenge you to rethink how you view and approach travel altogether — and, all in all, that's a good thing.
For more TPG news delivered each morning to your inbox, sign up for our daily newsletter.
Sign up for our daily newsletter
O. Christine
Whether she's climbing the Rocky Mountains of Colorado, or taking a dip in the azure waters of Aruba, Afro-Latina travel influencer O. Christine always makes sure to prioritize wellness in all her adventures. The Bronx-born writer, photographer and travel expert loves bringing her audience along on all her trips, sharing self-care tips along the way. Vocal about her own experience with lupus, she'll inspire you to prioritize your health so you can see as much of the world as possible.
Where you'll find them: In Philadelphia or New York City, reminding you to rest and get outside in equal amounts.
Dash Harris and Javier Wallace
with their site, community and touring company, AfroLatino Travel, cofounders Dash Harris and Javier Wallace are doing the work center the experience of Black Latin American culture, history and diaspora. Harris is a multimedia journalist and documentarian, while Wallace's background is in education, coaching and tourism. Together, they offer insight in English and Spanish on anti-racism and Afro Latinx heritage and history by way of workshops, classes, IG Lives, tours, itineraries and more — all of which is sure to change lives.
Where you'll find them: Harris is based in Havana, Cuba, and Wallace spends his days primarily in Panama and Colombia.
Jessica van Dop DeJesus
As a Marine, Jessica van Dop DeJesus began her travels on- and off-duty nearly two decades ago, and simply never stopped. The Washington, D.C.-based travel media specialist and veteran has since visited more than 50 countries, from Japan to Belgium, Greece to Spain and then some, snapping photos and making memories along the way. As the Dining Traveler, van Dop DeJesus takes readers on culinary voyages around the world, bringing along her perspective as a bicultural woman of Puerto Rican heritage, and now also as a mother to a young child who joins her for many of her travels.
Where you'll find them: This Boricua influencer spends most of her days in the nation's capital, blogging about the joys of D.C. life
Lola Mendez
Uruguayan-American queer travel journalist Lola Mendez (also known as Miss Filatelista from her blog) loves to show her audience the best in vegan eats and sustainable getaways. Six year ago, Mendez left her thriving career as a New York City fashion publicist to pursue her love of travel full time and since then has wandered from Hoi An, Vietnam, to Rio de Janeiro and more. Founder of Latinas Love Travel, Mendez frequently offers tips, inspiration and personal musing on her IG Stories.
Where you'll find them: Teaching yoga on the beaches of Puerto Vallarta, Mexico, her current home away from home.
Bani Amor
Few people are willing to explain in detail what it means to travel responsibly as Bani Amor. The gender/queer travel writer and four-time VONA/Voices Fellow influences less via picturesque Instagram photos of waterfalls and rainforests (although they do have a few of those images) and more with their in-depth of knowledge of what it means to decolonize travel and recognize your place as a stranger in someone else's land.
Where you'll find them: In Queens, running virtual workshops that will change the way you view and approach travel.
Stacey Marlene Valle
After losing a close relative, Stacey Marlene Valle decided to push past her doubts and begin traveling the world. Eighteen countries later, the deaf Mexican-American blogger now inspires others to do just that. In Deafinitly Wanderlust, the young explorer shares what it's like to see the world through her eyes, while also highlighting the experiences of others in the deaf community. Find interviews with deaf artists and change-makers, feminist and anti-racist reflections and, of course, breathtaking images of lands near and far on her Insta.
Where you'll find them: In California and beyond, sharing deaf culture with the world.
Sam Ortiz
Plus-size Latinx mountaineer Sam Ortiz wants people to know that climbing and the great outdoors in general, are for everyone. That's why she began Climb Big, a community for fat and plus-size climbers to find one another and resources to help them achieve their climbing goals. Follow the photographer, graphic designer and all-around adventurer for beautiful images from Oregon to Alaska and beyond, of trails, lakes, mountains and bodies of all sizes enjoying nature and movement.
Where you'll find them: In and around the State of Washington, hiking, rock-climbing, kayaking and reminding you that you don't need to be a size 0 to get outside.
Bottom line
The world is big and travel is getting more diverse. You can widen your horizons by following these seven Latinx/Hispanic travel bloggers and influencers to learn about new-to-you parts of the globe. You'll also get inspiration to travel outside of your comfort zones and have unique experiences while you're there.